Ever-Ready Trademark Face
Patent USTM130008
Invention Trade-Mark for Safety-Razors, Safety-Razor Blades, Metal Safety-Razor Frames, Mechanical Stroppers for Safety-Razor Blades
Filed Tuesday, 3rd June 1919
Published Tuesday, 23rd March 1920
Inventor Julius Bueno de Mesquita
Owner American Safety Razor Company
Language English
For a full resolution version of the images click here
A PDF version of the original patent can be found here.
Parts not referenced in the text: None
Parts not referenced in the images: None
United States Patent Office.
---
American Safety Razor Co. Inc., of Brooklyn, New York.
Trade-Mark for Safety-Razors, Safety-Razor Blades, Metal Safety-Razor Frames, Mechanical Stroppers for Safety-Razor Blades
---
130,008.
Registered Mar. 23, 1920.
Application filed June 3, 1919. Serial No. 119,145.
---
STATEMENT.
To all whom it may concern:
Be it known that American Safety Razor Co. Inc.., a corporation organized and existing under the laws of the State of New York, and located at Johnson and Jay streets, Brooklyn, New York, has adopted and used the trade-mark shown in the accompanying drawing, for safety-razors, safety-razor blades, metal safety-razor frames, mechanical stroppers for safety-razor blades, in Class 23, Cutlery, machinery, and tools and parts thereof.
No claim being made to the words "Trade Mark Face" and "Safety Razors" apart from the mark shown in the drawing.
The trade-mark has been continuously used in the business of said corporation, and in the business of its predecessors Reichard and Scheuber, since about 1904.
The present applicant, American Safety Razor Co. Inc., is also the owner of United States Trade-Mark No. 41201, dated September 29th, 1903.
The trade-mark is applied or affixed to the goods, or to the packages containing the same, by printing, stamping, embossing, or by means of a printed label on which the trade-mark is shown.
[L. S.] AMERICAN SAFETY RAZOR CO. INC.,
By J. B. de MESQUITA,
Secy.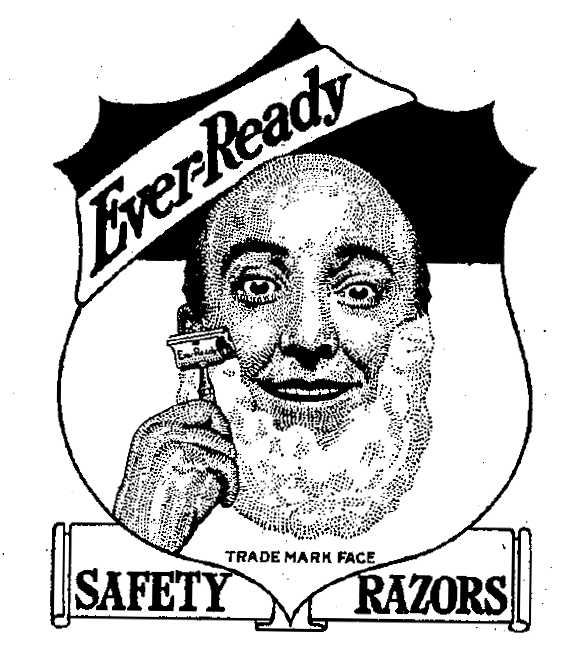 DECLARATION.
State of New York county of Kings, ss:
Julius Bueno de Mesquita, being duly sworn, deposes and says that he is the secretary of the corporation, the applicant named in the foregoing statement; that he believes the foregoing statement is true; that he believes the said corporation is the owner of the trade-mark sought to be registered; that no other person, firm, corporation or association, to the best of his knowledge and belief, has the right to use said trade-mark in the United States, either in the identical form or in such near resemblance thereto as might be calculated to deceive; that said trade-mark is used in commerce among the several States of the United States (and between the United States and foreign nations or Indian tribes, and particularly with England, France, Switzerland, Russia, Canada, Venezuela, Argentina, Italy, Australia, New Zealand, India, Spain, Colombia, Norway, Sweden, Denmark, Chile, Brazil, Japan, Holland, and Union South Africa); that the description and drawing presented truly represent the trade-mark sought to be registered; and that the specimens show the trade-mark as actually used upon the goods.
Julius Bueno de Mesquita.
Subscribed and sworn to before me, a notary public, this 21 day of May, 1919.
[L.S.] B. KLINE,
Notary Public.
Renewed March 23, 1940, to American Safety Razor Corporation, a corporation of Virginia.